Eritrean Embassy in Khartoum Commemorates 31st Anniversary of independence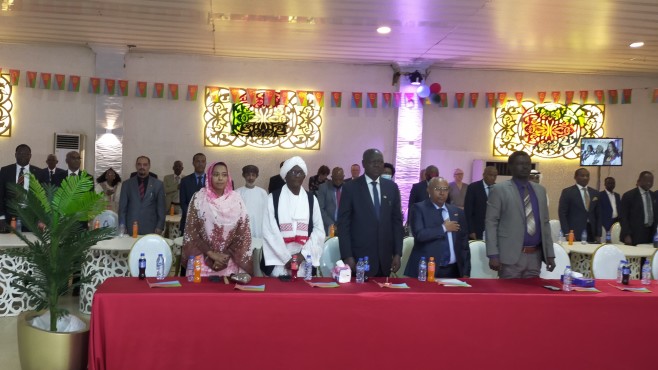 The Eritrean embassy in Khartoum organized on 21st May 2022 a reception and cultural event to commemorate the 31st anniversary of the independence of Eritrea.
The celebration took place in
Maryland Hall in Khartoum and was witnessed by a number of ambassadors, diplomatic representatives, and international, regional, and local organizations.
The government of Sudan is represented by the Minister of Information and Culture, Graham Abd-Algadir, and the Governor of Darfur Region, Menni Mannawi.
Minister Graham Abd-Algadir praised the Eritrean Sudanese relations and emphasized that Sudan sees the relationship between the two nations as a strategic and top priority.
Ambassador of Eritrea in Khartoum, Eissa Ahmed Eissa said our independence commemoration this year comes under the slogan "Independence Choice, Backbone of our Pride" as the people of Eritrea still remember the sacrifice and the blood of our heroes and martyrs who made our independence possible.
Ambassador Eissa confirmed the willingness of his country to continue helping Sudan regarding the national dialogue and reconciliation.
Eritreans in Sudan is a large and well-respected community as they contribute to several fields and more specifically business and services sectors.
Although there is border trade and a good level of economic cooperation, the potential for more cooperation and full integration between Sudan and Eritrea is significantly bigger than what is happening in reality.
Eritrea succeeded in maintaining stable relations with Sudan even after the Ethio-Sudanese tension and having Asmara on the side of Addis Ababa.
Eritrean President Isaias Afwerki could be a preferable mediator for the two sides in the Sudanese dispute. His long and historical relations with the Sudanese political powers and his contribution to the peace of the East Sudan agreement make him and his country good positioned to act.
Mr. Ismael Musa, community councilor at the Eritrean embassy in Khartoum said there are similar events to be held to commemorate the independence in Kasala, Gadarif, and Port Sudan with cultural exhibitions and community participation.