Media Capitals in Africa: More than $50 billion and Real Partner in Establishing African Economic Community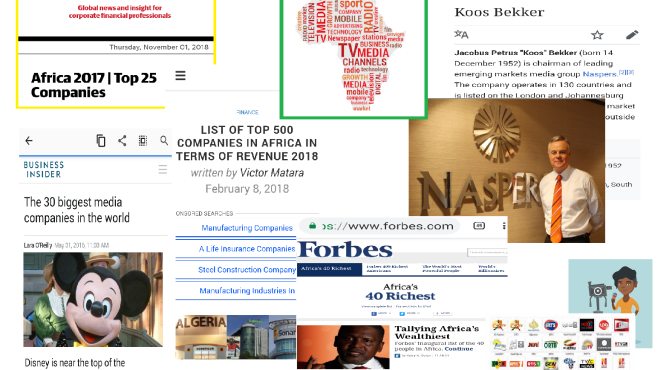 IN the article "The 10 Most Powerful African Media Moguls" in Venture Africa, the writer Tom JACKSON says that Koos BEKKER is running the South African media company "Naspers" with business size of $12 billion. He also states that Chris KIRUBIi from Kenya is running media business with $200 million; he is the owner of Capital FM. Other names of the top ten supposedly have numbers between these two figures.
According to Forbes, Koos BEKKER occupies 31st place on Forbes' list of Africa's 40 richest people.
The two Articles and other sources confirmed that the top 10 Media Companies in Africa run their businesses with not less than $50 billion. This includes public and national media. However if we add sectors like movies and cinema production and telecommunications related sectors to media the number might exceed $100 billion. The studies did not give attention to the big industry of Arabic cinema in Egypt as an example, focused on Anglophone area and couldn't go deep in local media. Also, still we need more debate on how to classify the national sector in media is governmental or it is endowment owned by people.
In all cases we can say with no hesitation, there is a big market of media and it is a big business in Africa. It is real part of economy and should be studied like other parts and to be put in the context of AEC and AfCFTA as businesses of both trade and services sectors. We should change the way of looking to media as a tool to be used to influence decisions on political and economic issues. When you get media involved as AEC and AfCFTA business it will take care of its role to defend and support AEC and AfCFTA. Again, one of 40 richest people in Africa is Koos BEKKER of "Naspers" which is a South African-based company with stakes in internet media, TV media, cellular communications, print media, and social media. Do we need more evidence on the size of media in Africa economy?
Still there is negative information on the size of African media, we should trace it and correct it. According to Business Insider, Lara O'Reilly wrote about the 30 biggest media companies in the world. Africa is completely out of the list, I believe the problem starts from the study itself or perhaps African companies have no good agencies of information on their size.
In the article "The Five Most Powerful African Media Moguls", Mfonobong Nsehe states again names of Koos BEKKER from South Africa at top of the list followed by Linus GITAHI from Kenya and Nduka OBAIGBENA from Nigeria.
In the article " Top African 25 Companies", the author Maria OBIOLS of Global Finance Magazine, has ranked African Media Entertainment which  as number 7, which is a South African media company, and Nation Media Group from Kenya as number 10. That means the two media companies are at first 10 successful businesses in Africa.
in the article "List of Top 500 Companies in Africa in Terms of Revenue 2018",  Victor MATARA, has put about 18 media companies or diversified companies with investment related to media out of the 500 list. Naspers of South Africa again appears at the rank number 15 among 500 companies.
The conclusion is that media is real a big, real and vital part of African economies.