Sudan Press Freedom, Sudacal Honour Reporters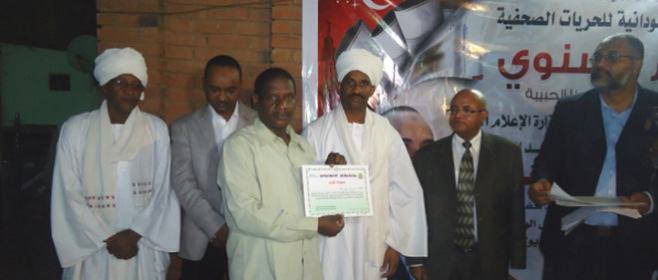 Khartoum – This year's Sudan Press Freedom (SPF), in collaboration with Sudacal International Group, annual iftar was dedicated to honouring the Sudanese team of reporters who visited the renaissance dam in Ethiopia.
The event was attended by State Information Minister, Yassir Yusuf, the Ethiopian ambassador in Khartoum and a Sudacal representative.
President of the SPF, Mekki Elmograbi, welcomed the participants and praised their efforts to expand media activities to boost cooperation between Sudan and Ethiopia.
Elmograbi lauded the reporters who traveled by road from Khartoum to Addis Ababa in Ethiopia to report on the progress of the Renaissance Dam.
Sudacal International Group representative affirmed the company's keenness to develop cooperation with the press in order to strengthen relations between Sudan and Ethiopia.
The Ethiopian Ambassador addressed the ceremony and reiterated Ethiopia's enthusiasm to develop the relations in political, economical and social aspects, pointing out the positive role played by the Sudanese media in improving dealings between the two countries.
Information State Minister Yassir Yousuf addressed the ceremony lauding the role of SPF and the efforts of its President Mekki Elmograbi in defending the press and journalists.
He thanked the Ethiopian Embassy and Sudacal International Group who sponsored the honoring of the reporters who visits the dam.
He said that the government is committed to spreading press freedoms; but he stressed the importance of not violating others' right while enjoying freedoms.
He added that the Information Issues Conference held recently in Khartoum resulted to 26 recommendations which the Ministry will implement after its endorsement by the Council of Ministers.
The Minister affirmed that the Ministry will continue discussion with the concerned parties to implement the information conference recommendations.
He revealed that a committee from the ruling National Congress party is currently considering ways of restructuring the state's media so that it is up-to-date with rapid developments in the field; in addition to enhancing press and prints through special legislations to enable it to compete regionally.