This is Djibouti that I know! (1)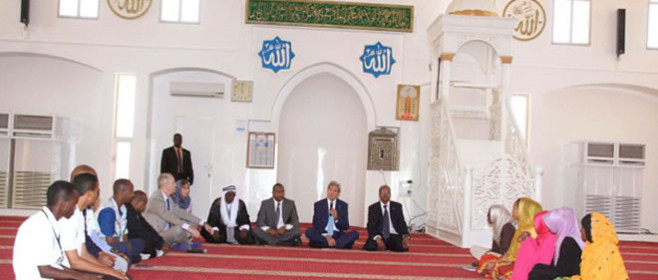 This is Djibouti that I know?! (1)
By\ Mekki Elmograbi

Djibouti visit was the last station in "Kerry's East African tour – May 2015" after Kenya and Somalia. It was the first ever visit for a U.S. Secretary of State to the Horn of Africa.
Associated Press published very interesting article on the visit, "Kerry trip to Djibouti highlights importance of small nation now increasingly key to US policy", the article commented on tiny Djibouti, which covers an area in the size of "New Jersey state" with less 1 million population, "A sleepy coastal nation in the Horn of Africa, Djibouti was the last French colony to achieve independence. Today, nearly four decades later, the mainly Sunni nation has become a critical part of U.S. foreign policy"
Kerry headed directly from the airport to Salman Mosque, Djibouti, where he addressed the Islamic world through a short meeting with Djiboutian youth and the Imam of the Mosque.
It is a wonderful initiative organized by the Djiboutian government; for this reason, I wrote "this is Djibouti that I know", the people are loyal to their country, loyal to their religion and their culture but in the same time very open to discuss and to convey peaceful messages to the entire world not just U.S.
Really, Djibouti is an advanced model of tolerance and sense of balance.
Kerry discussed with President Ismail Omar Guelleh cooperation on security and other matters.
Djibouti because of the wise and balanced policies of the President Ismail Guelleh became the safe heavens in the horn of Africa. It is small in size but big in its influence in the region; this made me write a series of article under the title: "Djibouti the Pomegranate of the Scale in East Africa". It is just like the small metal ball in the Steelyard scale that makes the poise.
U.S. is not one the biggest partners of investment and development but the ties between Djibouti and Washington based on cooperation, peace and security. In May of last year, President Guelleh paid a visit to the U.S. and met President Barack Obama and discussed several issues related to peace and security in the region.
Djibouti is stable and it has been a political laboratory supplying other countries with stability remedies. Despite resistance to implementation here and there, the country has remained neutral against polarization and hijacking, it remained in safe hands of the smart leadership, whose wise foreign policies yielded it a state of security and stability to render it a rising regional economic power.
It is worth mentioning and repeating again that Djibouti's neighborhood has never been stable; this is what we will explain in another article.