Which is better for Africa Wind Mills or Solar Plates?!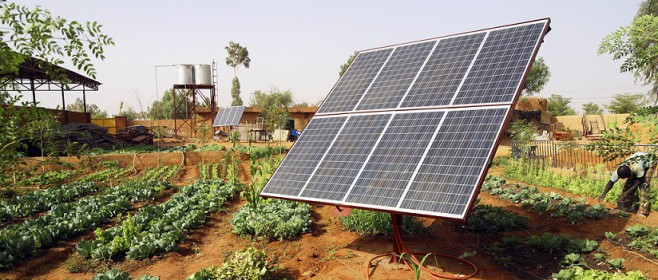 Which is better for Africa Wind Mills or Solar Plates?!
Both are good and needed, but for Africa and underdeveloped countries, wind energy is prior because:
1\ Wind mills are easily to be manufactured or assembled; the technology is not that complicated like solar-electric plates. Some would say it is not difficult to localize solar manufacturing or assembling. Yes, it is true but Wind energy is still easier, it should be the backbone for the energy in Africa then solar-thermal, then solar-electric and then others join in conducive atmosphere for investment.
 2\ Maintenance of wind energy system easy is to be trained on. Technicians and local labors in Africa and underdeveloped countries who are able to maintain the tractors and trucks, it would be easy for them to install and fix wind mills and its electric attached equipments and convertors.
 3\ Wind mills produce energy during night time, cloudy weather and dust storms. These are the times that energy is needed to protect disasters, crimes and all bad things threaten Africa. Development in Africa is not just matter of energy. Couple of negative factors should be addressed and targeted.