Gulf Investors are now Venturing into Sub-Sahara Africa, Interview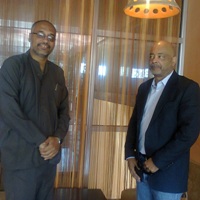 Introduction
The Pan African Chamber of Commerce and Industry PACCI is a voluntary organization set up by 35 African Chambers of commerce and business associations. Its membership base also includes corporations, companies, firms, and organizations in international trade and related business operations.
PACCI is based in Addis Ababa, the home of the African Union and the United Nations Economic Commission for Africa and the home of several Africa head-offices for international and regional organizations. PACCI works with international organizations, media entities, policy-makers and through its national member chambers with African national governments to help African businesses to foster sustainable economic growth. The planned conference that will be organized by PACCI is entitled "Pan African Business Conference to salute the 50th Anniversary of the African Union", the conference will take place and time in Addis Ababa, Ethiopia on 24th of May 2013.
Sudan Vision met Mr. Kebour Ghenna, the Executive Director of PACCI in Addis Ababa and asked him some question about PACCI, the upcoming conference and business opportunities for International and Gulf investors in Africa.
Q: Pan Africanizm" till now is just a political and cultural literature; it has no thing to do with Economy. This is what has been said by realistic critics, who advised African nations to adopt free market policies that put African economies on the right track? After that, the economic integration could be possible. What is your comment?!
A: Pan Africanizm has generally been expressed thru politics, history, music, art but hardly through the traditional economic concept. And yet the economic dimension has always been there. The quest was always to pool Pan African resources to establish economic power for the common good. And you can go as far back as 1897 or 1900 when the Pan-African Conference was held in London and where the a commitment for the betterment of all people of African descent was the main discussion point.  Slavery at the time may be the issue. But slavery is the result of one dominant culture that is technologically and economically advanced taking advantage of a weaker, poorer society. So yes, we also have to address the applicability of issues such as science, technology, business and economic freedom in Africa's future.
At a time when the threat of re-colonization looms large, Pan African economic empowerment becomes critical, and the aim of the Pan African Chamber of Commerce and Industry is to create a Pan-African and Diaspora platform for young and emerging business operators to discuss and debate the challenges of the day.
Q: According to your point of view and PACCI plans and studies, what are the biggest challenges for private sector and foreign investments in Africa?
A: Yes, like all other regions of the Globe, Africa has its many challenges ranging from economic governance, growth, equity, weak infrastructure, to poverty reduction. In the past decade many of these challenges have been addressed and we see increasingly positive social and economic changes across the continent. But if I have to identify the three top challenges, I will start from the level of the firm; here productivity tends to be weak because of a lack of investment in both physical and human capital. I see huge opportunities in this area. Second, I will note the challenges governments face about what their priorities are. In terms of reforming education and readying the next generation for gainful employment.  Finally, in terms of the regional challenge it's important for Africa to have four or five powerhouses – one in each part of the continent – to drag the rest along. South Africa, Nigeria and the east African Community are the potential hubs for regional markets in which countries can exploit economies of scale and the potential to trade.
Q: What PACCI is aiming by holding the May conference for African Business Associations?
A: The Pan African Business Conference is organized to salute the 50th Anniversary of the African Union. As you know many observers applaud the African Union project as the solution to the continent's age-old problems of conflict, economic inequality and war. They view the AU as the most positive geopolitical development ever to occur in Africa. The objective of the Conference is to support business and economic integration in Africa.  We at PACCI believe that the economic side of the integration face fewer obstacles and actually can keep in motion the process of African integration. The Conference will create an arena for entrepreneurs, business people, government officials and opinion makers within the continent and beyond to meet and establish or reinforce business connections. Also, to suggest policy improvement and issue awareness that will benefit the status of business and economic integration in Africa. The conference will focus on agribusiness, finance, technology, infrastructure and energy. The glamour industries of entertainment, fashion and beauty will also be addressed. The speakers will include head of corporations that are doing business in Africa and globally as well as some of the world's leading thinkers in development and business.
Q: Non-stability of economic policies, terrorism, piracy, natural catastrophes, wars, famines, etc, all these very bad things are shaping the image of Africa, how could present different image for investors?
A: First of all the negative image of Africa is not justified. But this is what happens when you let someone else drive the agenda or let the outsider highlight divisive issues like political crises or sensational negative news. It is true there is famine. It is true there is poverty, there is war. But Africa is a place where a lot of good things are also happening. Talking about Brazil, for example, the good news there overwhelms all the negative ones. Why? That is because Brazilians have taken their fortune into their hands.  Africans and local media houses should increase their efforts in shaping and conveying the narrative of the African situation. The PACCI is committed to reversing this negative image. Africa has for a long time been stuck in a position with few options of whom it wants to trade with. And with China and India competing for investment opportunities alongside Europe and North America, African nations now have a multitude of potential trading partners to choose from. And more leverage to set the rules and change the negative image.
Q: What is the role could played by African Media on this issue?
A: African media is more important than ever to address not only the many stereotypes about Africa, but also to highlight many of the issues that impact the African business and economic scene. It should be very proactive in providing the voices and addressing the issues that impact the African integration at continental level. It's my hope that African media will help us question and understand the challenges Africa faces and also help us become more aware and enlightened in our responses to these challenges and forge ahead in our union.
Q: Could you give us successful examples of international or Gulf investments in Eastern Africa Region?
A: Africa is becoming more interesting to investors from Gulf countries because of the natural resources it has, its demographics and improving governance. Annual trade between the Middle East and Africa has grown fivefold to $49 billion over the past decade, from $10 billion in 2002, according to Standard Chartered Bank. In the past, most Gulf investment in Africa has been in the north of the continent, because of linguistic, cultural and political ties. Increasingly,
however, Gulf investors are venturing into sub-Saharan Africa – in some cases using North Africa as a base to do so. For example the private equity firm Abraaj Capital invested $125 million last year in Morocco's Saham Finances, which has interests in insurance operations across Morocco and francophone West Africa. It aims to tap into an anticipated pick-up in demand for insurance in Africa. Also some of the Gulf's big infrastructure operators have been players in Africa for years. Dubai port operator DP World, which has had a presence on the continent since 2000, now runs the port of Dakar in Senegal and port operations in Mozambique, Algeria and Djibouti. In addition telecommunications giant Etisalat  has investments in Egypt and Nigeria, and stakes in about six countries in West Africa, as well as Tanzania's Zantel and Sudanese fixed line operator Canar. So I believe that as long as African economies continue to grow considerably faster than much of the rest of the world, the trend of increasing Gulf investment is set to continue.