Kenyan – Sudanese Relations, Welcome on board KQ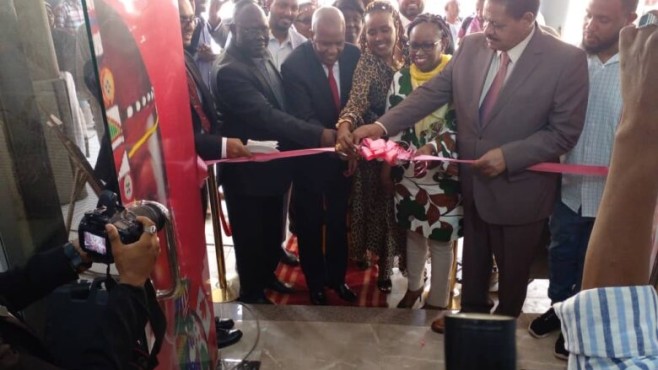 By Mekki ELMOGRABI & Idris OSMAN
It was almost a Kenya-Sudan Forum; the opening of Kenyan Airways office in Khartoum turned into a great opportunity for Kenya's friends in Sudan and Kenyan officials and visitors to meet and discuss. People might think about business-based relations, but among the audience, we have more categories; a number of journalists and experts who travel to Kenya regularly to attend conferences and events as Kenya is one of the main event hubs in Africa, and some of them have written articles
on cities like Naivasha, Machakos and more while they were covering the Sudan peace talks, also there is a large number of Kenyan students in Sudan. Moreover, Kenya used to be one of the preferred honeymoon options and there were many co-marriages and family relations between the two countries due to the cultural and historical ties between East African nations.
Within the event, Kenyan airways organized a joyful cultural street party with Sudanese bands and Kenyan Music in downtown Khartoum, the capital.
While enjoying the celebration and music, people shared their expectations and suggestions for Kenya-Sudan relations.
Kenya Airways or KQ – in its abbreviation – has been serving in Sudan for a long time and still it is the best choice for Sudanese passengers to some destinations in Africa but due to the economic and political situation in Sudan, a considerable number of airline companies closed their offices or stopped their operations for the past two years.
The inauguration of "the Pride of Africa" new office in Khartoum on Sunday 15th May 2022 was a great ceremony attended by Sudanese partners and friends of Kenya.
The event was attended by the Sudanese civil aviation authority in Sudan and a group of Sudanese businessmen who are well connected with Kenya and East Africa.
The Regional Manager of Kenya airways, Rose Kisell led the festival and welcomed the event's guests, she confirmed that it is only the first step and the company is coming back to Sudan with great hopes and big plans. Rose expected that opening the office and getting closer to the Sudanese market will boost the trade exchange between the two countries. "We are working on a plan to connect Cairo via Khartoum through Kenyan airways which give our customers more options", Rose said.
Kenya Airways' inauguration party witnessed a lot of sideline meetings between the leadership of the company, friends of Kenya, the business community, travel agencies, tourism companies, and the media. "We discussed very brilliant ideas with our partners and friends on how to develop our work and how Kenya Airways contribute to Kenyan Sudanese relations", Rose explained.
the Kenyan Ambassador to Sudan, Mr. Ngewa Mukala to Sudan shed light on several fields of Kenyan Sudanese cooperation and integration and reassured his country's full commitment to develop relations with Sudan in all fields.
The new office of Kenya Airways could be the second big event in Kenya-Sudan economic relations during the first half of the year 2022. Last February there was "Tea Forum" organized by the "Tea Board of Kenya (TBK) with Sudan's partners". Kenya Embassy in Sudan has very active relations with the Sudanese people and the Kenyan community and is exerting unremitting efforts to enhance the bilateral ties.
Ronald Yona, Manager of Kenya Airways Office in Khartoum said they started their operations in Sudan on December 10th, 2021 with one flight a week but today there are three flights a week and will reach daily flight, "Our strategic plan to ensure that we provide the best services to our valued Sudanese customers and the international customers who want to reach Sudan", Ronald said. Kenya Airways' sales office in Khartoum is well prepared to serve the Sudanese market as it is located in a very strategic place in Khartoum Downtown and includes a staff of 14 members who have good experience and are well-trained. Also, there are travel agencies cooperating with the office and also online sales.
Elizabeth Onunga is an expert in airlines and worked in this field for over 25 years, she said that this move can boost the relationship between the two brotherly countries Sudan and Kenya, especially in the business and tourism sectors.
Read articles:
The "Pride of Africa" in Khartoum Again

Kenya's "Tea Diplomacy" Shines at the Confluence of the Niles