Back from the UK to start a handicraft business in Kenya; Now She is Successful!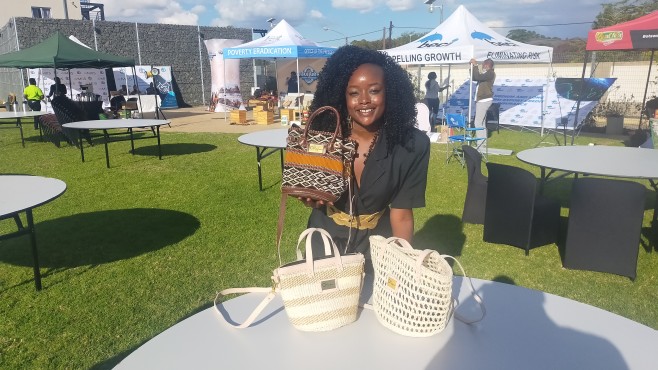 Gaborone: MC-Media
Africa is still full of stories of success and perseverance. Sheila Onyango, a young Kenyan businesswoman with a degree in Telecommunication from the UK, decided to return to her home country and start a small handicraft business. She has a business network with over 10 ladies who make traditional bags using local materials, "leaf and burlap". Her business "Okapu" is named after "the Bag" in her native language, now is open to the world after four years of e-commerce through her website "okapu.co.ke".
Sheila was invited by PACCI and Botswana Business to present her experience at "the 5th edition of Africa Prosperity Conference" in Gaborone, Botswana, in May 2022. She brought her beautiful bag to the event to show at the conference exhibition.
Okapu bags are made from local plant materials but are designed in pure leather for more strength and beauty, this process is made by Okapu with leather designers.
Sheila wants to recruit at least 10 young girls to make bags by the end of 2022 because the craft is only relevant to the old women in the village: "the industry itself is in danger if it is not passed on to the new generation", Sheila said. The young entrepreneur is now planning to open a "shop and workshop" in Nairobi so young women can come and see how beautiful and useful the industry is: "I'm working hard and trying to find support so that to locate my business in a good place. Also, I plan to open branches or have agents in some African cities," Sheila said.
Okapu's customers from the US, Europe, and Asia pay online and receive their bags via DHL and other methods, but Shiela is working to make her products available on more e-commerce platforms.