Mekonnen Theshome wins OFAB Award 2020 * Mekonnen Theshome remporte le prix OFAB 2020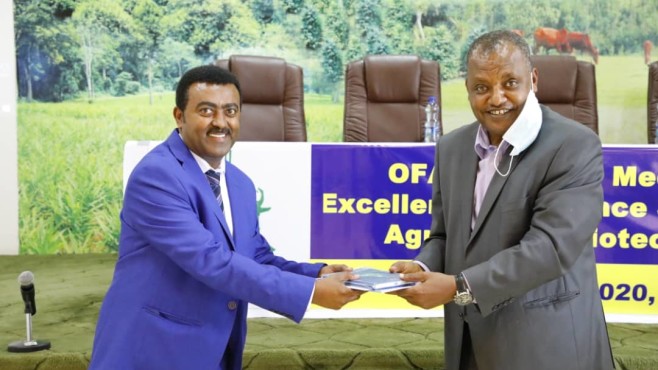 Mekonnen Theshome, journalist and science media specialist, who wrote several articles for (Mekki Center) won OFAB Media Award 2020.
OFAB  -Open Forum on Agricultural Biotechnology in Africa – ceremony held on 15 October 2020 at the Head Quarters of the Ethiopian Institute of Agricultural Research (EIAR-HQ), Addis Ababa Ethiopia.
The event is aimed at connecting Ethiopian farmers with scientific innovation and technology and Biotechnology (OFAB) in Ethiopia and with the motto "celebrating excellence in science journalism".  as well as recognizing the works of journalists in promoting agricultural biotechnologies on the national level
Mekonnen Theshome remporte le Prix OFAB 2020

Mekonnen Theshome, journaliste et spécialiste des médias scientifiques, qui a écrit plusieurs articles avec (Mekki Center) a remporté l'OFAB 
Prix 
2020.
OFAB: 
forum ouvert pour la biotechnologie agricole en Afrique.